Video Game Review: Animal Crossing New Horizons
"Animal Crossing New Horizons" is the latest main installment in the "Animal Crossing" series, and the first to be released on the Nintendo Switch. Though anticipation for the first main entry since "New Leaf" on the Nintendo 3DS was always high, the game has proven to be not only the best installment in the series to date; but the ideal experience in these uncertain times.
The game shakes up the long-standing formula by having you and your fellow animal friends take up refuge on a tropical island. Under the guidance of Tom Nook and his nephews Timmy and Tommy; you end up not only building your home but an entire town to your liking. With a much greater emphasis on crafting and creating this time around, the game has easily been the freshest entry to date. The relaxed atmosphere allows players to go at their own pace, giving a sense of stability and serenity in a time where there isn't much of a supply of either.
Originally slated to come out during the 2019 holiday season, the game was delayed to this past March to fine-tune the title before it shipped. In hindsight, this decision worked out wonderfully. Not only do the graphics and gameplay show how far the series has come since it first came to the US in 2002, but it has also become the perfect way to escape to paradise in these troubling times.
On top of being able to craft items from resources found in-game, the flexibility of custom content on your island is endless. Everything from a simple shovel to an entire virtual graduation ceremony and more is possible to create in the game's toolbox. With more updates planned to roll out over time, the game looks to add another worthy title to the growing catalog of the Nintendo Switch. Though there have been many games in the series since the release of the first entry on Gamecube in 2002 (itself a reworking of the Japanese N64 title "Animal Forest"), this title is worthy of being the first main installment in the eight years since "New Leaf" launched in 2012.
With the game having sold a record 13 million copies to date, "Animal Crossing New Horizons" is the definitive "Animal Crossing" experience. It's another "must-own" game for the Switch and the ideal tropical escape in a time where people need it the most.
At A Glance: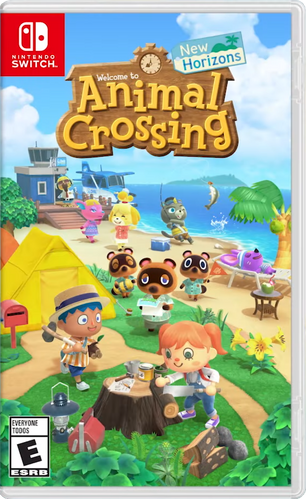 Video Game Review: Animal Crossing New Horizons
Publisher: Nintendo
Developer: Nintendo EPD
Platform: Nintendo Switch
ESRB Rating: E
My Rating: *****/5